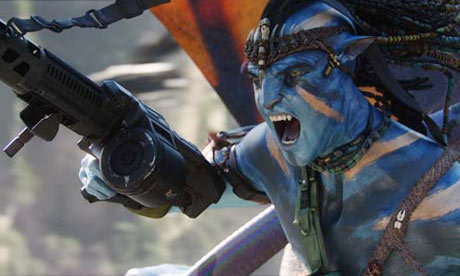 by the Left Coast Rebel

No, the title here is not a joke. Call me cheesy or a fuddy-duddy, I would rather curl up on the couch with a warm drink and watch a classic movie, (even God forbid Seven Brides for Seven Brothers), any day than brave the crowds and madness of the theater. I espcecially hate over-hyped (un)believable tripe that spews political messages that 70% of America doesn't believe in.

Yes, I am talking to you Hollywood. You suck, but you can't help it, it seems. Did I mention that I don't like giving my hard-earned dollars to you knowing this? As if on cue, "Avatar" sucks too. Or at least it does according to people that I would listen too before plunking down $20-$30 on the affair. Debbie Schlussel, (h/t Saberpoint), thinks that "Avatar" stinks to high heaven. Long, boring, unoriginal. And oh-yah uber-left too.

More:


Smurf-like natives made to look like overgrown American Indians, complete with warpaint, mohawks, and long ponytails (that have computer-like USB cable tendrils in them, which can communicate with nature–ludicrous). Does that sound like earth-shattering stuff to you? They looked like Jar Jar Binks with arrowheads.


Oh man, Jar-Jar with arrowheads, I can't think of something more ludicrous.Don't waste your money America. Seven Brides for Seven Brothers is a big search item today.
Hmm
, coincidence? I think not. I can just see folks at home searching for an alternative to "Avatar." The live play version is tonight at 7:00 at MoMA for you NY East Coasters too. I also see that it is popular at other showings across the country. Stay home and watch the 1954 MGM classic Seven Brides for Seven Brothers on your silver screen, or any of a myriad of other classics instead of "Avatar." That's my vote......
Via
Google Trends